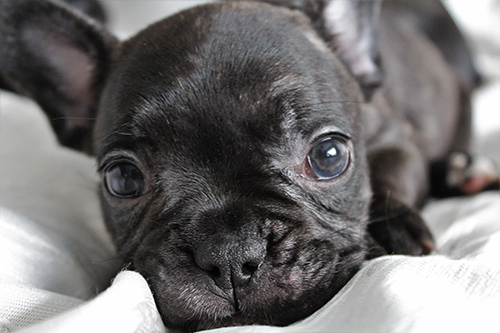 Before you go out and try to find French bulldog puppies for sale, you should know that those puppies are not cheap. A French bulldog puppy through a reputable breeder can cost you about $1400, and that does not include the cost of supplies. However, what if you were lucky enough to find a lower price? Be careful because you might not end up saving money, especially if you purchase from unscrupulous breeders that would not hesitate to sell you puppies with health conditions that could cost you a small fortune in veterinarian bills in the long run.
However, if you are also opened to adopting a French bulldog, this article is for you as well. We can give you ideas and information about the adoption process.
The secret to finding healthy French Bulldog Puppies for sale is to locate and recognize reputable French Bulldog Breeders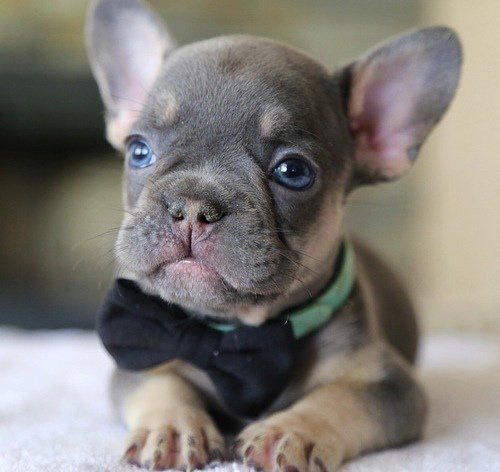 Once you decide to bring this fantastic dog into your life, it will be a fascinating time for you and your family. The emotions of acquiring this highly sought-after dog could cause you to hand over your hard-earned money to some dishonest breeder. However, this hasty move may not give the results you were looking for. Therefore, it is essential to get your new canine companion from a reputable breeder.
Today, anyone can pose as a seller on the internet. Anyone can create a profile on one of the more popular social media platforms and proceed to swindle money from potential buyers. As a possible future Frenchie owner, you need to be aware of these scams. The following tips will help you to recognize scams and help you to find reputable Frenchie breeders.
Where to Purchase a French Bulldog
If your first thought were to purchase a French bulldog from a breeder, that is great; however, keep in mind that you must buy one registered with the (AKC) American Kennel Club because any other registration should be looked upon as a fake or scam. If you happen to stumble upon one of these scams, please make sure to report it.
You can visit the AKC's website and get a legit list of local French bulldog breeders near your home. You can also call them, and they will be more than happy to help you find local breeders in your city and state. Be prepared to travel because reputable breeders may require you to drive to their home to meet you and pick up your future canine companion.
Things to Look for When Trying to Find a French Bulldog Breeder
Finding the right breeder will save you a lot of headaches in the future. Once you believe you have found the right one, keep the following list in mind before giving anyone your money and taking possession of the dog.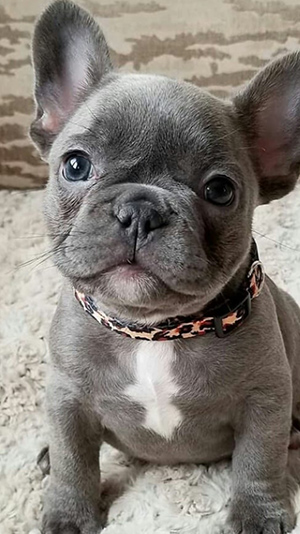 Legit French bulldog breeders will not sell you puppies that are not registered with the AKC because it is the only valid DNA-and pedigree-based canine kennel club in America. If you happen to visit the kennel where you will purchase your puppy, always ask where their litters were registered. The AKC makes sure that breeders that sell puppies register and pay a small fee for each puppy within a litter. Reputable breeders will gladly offer up this information to you.

Most reputable breeders have plenty of space around their homes or site to breed their dogs. Do not forget to ask for a tour of the breeding facilities and the French bulldog's accommodations. Also, good breeders will have the proper equipment and lodgings for their puppies to play, eat, and live, signifying that their dogs are treated well.

All good breeders should be knowledgeable about the breed and should be able to answer every question or concern you may have. They need to have a complete grasp of the dog they are breeding, such as potential health issues, nuances, and history. Good breeders will happily chat with you about this information without delay. The breeding of the French bulldog is not easy. It takes plenty of commitment and time to deliver healthy puppies.

Top-notch breeders care about every puppy that leaves their kennel or home. Do not be offended if they are also as curious as you are. One of the questions you will get is, why are you interested in getting a French bulldog? Another question you should be ready to answer is about your home's preparedness for your future canine companion. Some breeders will not sell you a puppy unless they visit your home to ensure that their puppy will be happy and safe in their new potential forever home.

Do not leave with your puppy unless you receive a warranty from the breeder. It is crucial to know via the warranty that your new puppy will not suffer from health problems or genetic abnormalities that could have been prevented by proper and ethical breeding.
How to Spot Bad French Bulldog Breeders
Spotting a bad Frenchie breeder is not hard. Many bad breeders are guilty of mistreatment and other horrific crimes. Most of them do not provide a healthy living environment for their puppies. These breeders usually operate puppy mills where they breed for nothing else other than profit. When you buy from these breeders, you encourage and support the dogs' exploitation, resulting in you losing a lot of money in the long run.
A good breeder will never treat breeding as a means for profit. The excellent breeders genuinely care about the breed and improve the dogs' overall health and well-being. Here are some signs that your breeder is unscrupulous:
If the breeder tries to get out of you visiting their facility, then something is not correct.

Please do not buy a dog from a breeder that would not allow you to visit their breeding facility, kennel, or home. Visiting the facility will let you know a lot about the breeder and how well the dogs are taken care of.


If you visit the kennel and witness dogs that are being neglected or just looking sickly, this is a sign that you should continue to investigate and take mental notes or pictures if you can.

Check to see if the facility is dirty and if the dogs have sores or skin abrasions. If you witness any lack of sanitation or any dog in distress, I suggest you get to a safe place and call the police or animal welfare and report this breeder as soon as possible.


Be aware of breeders that set up puppy sales websites.

It could be that the breeder is using a legitimate site to promote their kennel and using the reach of the internet to attract more Frenchie lovers and find their puppies a good forever home. However, it would be best if you still were wary because many of these sites are scams. If you did not find it via the AKC search tool or in one of the many French bulldog sub-club directories, then you can be opening yourself up for problems.


Make sure you do your research on whichever breeder you finally decide to purchase from.

Look them up on Google or any other search engine you prefer before you contact them. Performing a quick search will help you learn about any complaints or reports of unsanitary kennel conditions. If you find too many negative complaints, then continue your search and move on.
French Bulldog Rescue or French Bulldog Adoption
Although there are plenty of reputable French bulldog breeders ensuring that there are no shortages of puppies waiting for their forever homes, there are also plenty of them in adoption shelters waiting for new and forever homes as well.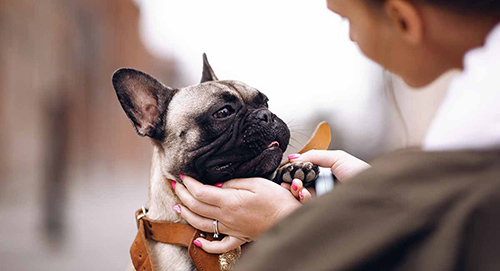 Most dogs end up in shelters because their owner's expectations and reality do not coincide. For instance, some Frenchie's are taken to shelters because the little puppy ended up having a little too much energy than the owner expected. Another top reason is their having a difficult time training the dog, and the list goes on.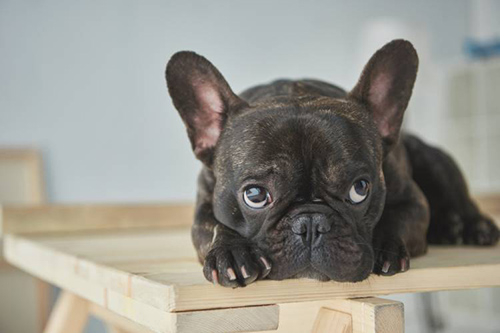 If you conclude that adopting a French bulldog is best for you instead of getting a puppy, then you will need to consider the question of 'are you ready to adopt a rescue dog?' This question is essential because a Frenchie adoption is not just cheaper; it is also about saving the dog's life and allowing it to live out its life, serving its purpose of being a companion dog.
When dogs end up in adoption shelters, they wait for two outcomes: a new forever home or euthanasia. Unfortunately, most people are under the impression that dogs are at the shelter due to predetermined notions such as a sickness or the owner's realization that the dog was not purebred.
For the most part, many dogs end up at shelters due to an owner's inability to care for them, including issues with finances and relocating to housing where no pets are allowed.
Locating a dog in an animal shelter also allows for the opportunity to find a companion that will fit your personality. You will also find out more about the dog's history. Most shelters do a fantastic job of record-keeping on whether the dog has behavioral problems or if they are good with kids, other dogs, or animals. Another benefit to consider when adopting a French bulldog is that they would most likely have already been house-trained.
If you are ready to adopt your Frenchie, here is a list of some trustworthy French bulldog rescue organizations:
French Bulldog Rescue Network (www.frenchbulldogrescue.org)
French Bulldog Village Rescue (frenchbulldogvillage.net)
The requirements are not complicated; however, it will demand some readiness on you and your family. After applying, you may have to endure multiple phone calls and home visits to ensure that you will provide a loving and caring forever home for the dog.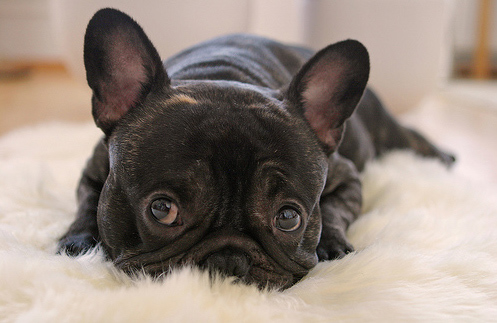 Be prepared to get visits from volunteers to see if you and your home are a good match for their rescue dog. Make sure that you have doggy supplies and toys ready for the new addition to your home. Also, remove any hazardous items from within and around your house that can put the dog's life in danger.
The forms you will need vary from facility to facility, but you will have to sign a contract that promises the rescue organization that you will take care of and provide for the dog once you are approved. The agreement will also hold you responsible for bringing the dog back if, for some reason, you are not able to take care of the dog anymore.
I hope this information is beneficial in your hunt for French Bulldog puppies for sale. I also hope that the information about the adoption of a rescue Frenchie was also informational.