We can trace the Shih Tzu breed profile to both China and Tibet. In fact, the Lhasa Apso and Pekingese were both involved in the Shih Tzus make-up. Much heated debate was stirred up when this dog was introduced to Britain in the 1930s because there was confusion between the Shih Tzu and the Lhasa Apso. Things were not much different when the dogs were finally introduced to the United States from England; they were registered as Lhasa Apsos and later bred from.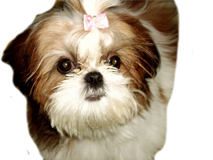 The Shih Tzu is a sturdy dog standing only 10.5 in (26.7 cm) and weighing in at a very manageable 10-18 pounds (4.5-8.1 kg). This breed is active, alert, intelligent, friendly, and independent. Because the hair grows upward on the nose, it is considered to have a chrysanthemum like face. The Shih Tzu requires a lot of grooming and considerable care because of its long dense coat and good under coat. It is also recommended that Shih Tzus head hair be tied up in a knot for the dogs comfort. All colors are welcomed and a white blaze on the forehead and white tip to the tail are highly desirable in parti-colors.
Shih Tzu Breed Profile
Name – Shih Tzu (some people prefer Shitzu, which is a common misspelling)
Official Recognition – UK Utility Group: FCI Group 9
Color Variations – All colors
Breed Fact
Among other differences, the nose of this breed is shorter than that of the Lhasa Apso and, though the dog is technically slightly taller, the legs in fact shorter.