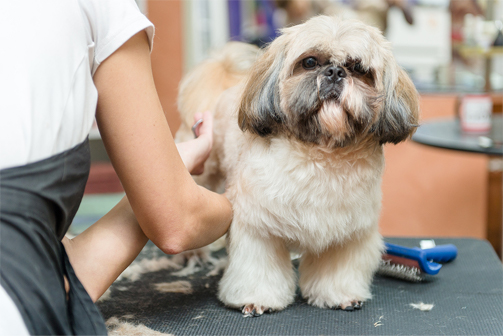 Depending on your perspective, grooming your Shih Tzu is the best or the most time-consuming thing about owning a Shih Tzu dog. This is why Shih Tzu grooming information is so important for owners.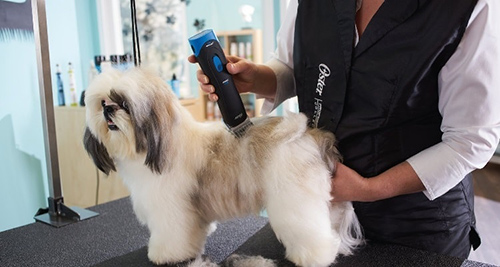 Most Shih Tzus have thick, long coats, which require a lot of grooming. However, many Shih Tzu owners prefer to have their dogs groomed professionally every four to six weeks.
Doing it this way is fine, but be prepared for a hefty bill for this service.
Shih Tzu grooming information on how to take proper care of your little companion
If you have the means to get your Shih Tzu's coat groomed professionally, you still need to brush his or her hair at least a few times a week. This enables you to keep mats and tangles from becoming a bothersome problem.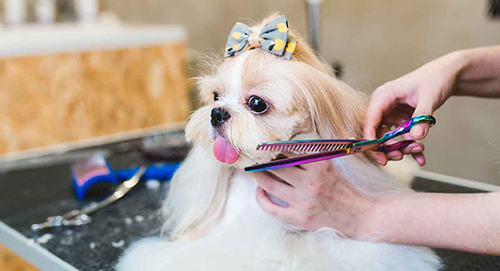 However, if you feel like this is too much work, or you do not have the time. You can keep your Shih Tzu's coat short. Keeping the coat short helps to minimize the work.
Shih Tzus that have long hair, should be kept up daily. In addition to brushing, you must also develop a routine of nail clipping, teeth cleaning, eye care, ear care, and let's not forget about daily cuddling and massaging.
Yes, you've got yourself a very high maintenance little dog. These are tasks that are better done by you daily, and should not be left for a professional groomer unless you can afford to take your dog in at least twice a month.
Grooming your Shih Tzu can be a fun adventure. It is a great activity that you and your little companion can enjoy together. Also, grooming is a great way to form a bond between you and your dog.
However, coat maintenance is not easy. Caring for the coat is not always about making it look luxurious. Grooming is also essential to the dog's overall health as well.
If you're fortunate enough to be a Shih Tzu owner, or you are considering purchasing a Shih Tzu puppy, there is something that you should know.
Firstly, you cannot neglect this dog. Grooming a Shih Tzu is a regular and tedious endeavor. There are specific things that you cannot afford to overlook when it comes to keeping your canine companion healthy and safe.
Neglecting your Shih Tzu's grooming needs can result in health issues. This dog's hair can grow extremely long. Therefore, we recommend daily brushing. Without proper and consistent grooming, your Shih Tzu hair can get tangled, knotted, and matted.
Without consistent and proper grooming, your dog will eventually become overtaken by parasites, which can lead to skin issues such as lesions and skin diseases.
Shih Tzu grooming information about the importance of caring for this particular breed of dog is crucial. Grooming your Shih Tzu is not just brushing and taking care of the coat. It also includes dental care, clipping of nails, and a variety of other tasks.
Shih Tzu grooming can be overwhelming. That is why it is essential to ponder the time, effort, and expenses that go into taking care of this breed before purchasing a Shih Tzu puppy from a breeder.
However, if you have the time and expenses to give this dog an excellent, safe, loving, and caring forever home, then you are going to love being the proud parents of a Shih Tzu. You and your new canine companion will enjoy each other's company for many years to come.