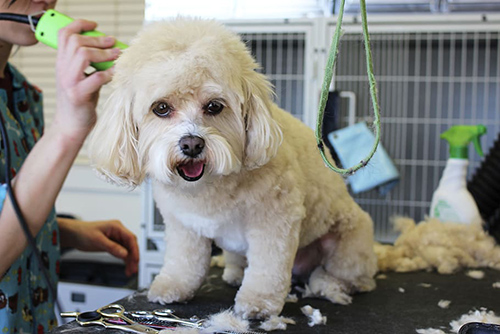 If you are already a Shih Tzu owner, you know how important it is to have a standard arsenal of Shih Tzu grooming equipment and products, especially if you are a DIY groomer. The right equipment will help keep your canine healthy, happy, and looking his all-out best. Here is a list of the following tools you will need: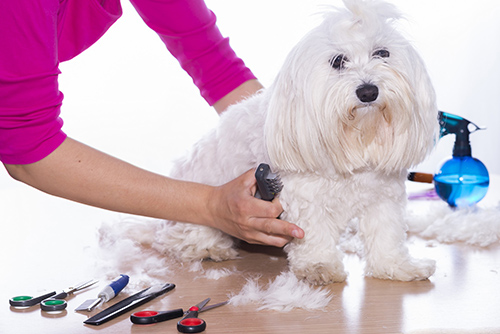 ELECTRIC CLIPPER: You are going to need a dependable and professional-grade (Andis or Wahl), quiet, two-speed clipper, preferably with detachable blades, which can be corded or cordless. Also, the clipper must have at least one or two blades, depending on the length that you want your dog's coat to be. I like to use a size 4F blade for keeping my dog looking sexy and healthy. An electric clipper is amongst the most important Shih Tzu grooming equipment for this breed.
BRISTLE BRUSH: A bristle brush is an excellent tool for removing debris, minimal mats from your Shih Tzu's coat, and simultaneously spreading all-natural oils, which keeps the coat looking shiny and illustrious. This brush is another excellent addition to your Shih Tzu grooming equipment arsenal.
SET OF SCISSORS: It is always a good idea to have a sharp and professional set of scissors for trimming around your dog's legs, feet, tail, and face as well as other tight hard to reach areas.
STURDY METAL COMB: Try to find a sturdy metal comb that has rotating teeth because it does not pull your dog's hair as much.
SLICKER BRUSH: If you have no idea what this is, you are not alone. Many dog owners do not know what a slicker brush is. This particular brush has rows of metal teeth placed firmly together, and it is an excellent tool for smoothing your dog's coat just before clipping.
NAIL CLIPPERS OR SCISSORS OR SLOW SPEED PET DREMEL: You will have to use these tools at least every two weeks or more. However, it depends on how fast your Shih Tzu's nails grow as well as the surfaces she walks on regularly. The pet Dremel is an excellent tool for leveling out the sharp edges that nail clippers tend to leave behind. Also, if you are attentive with regular use of the Dremel, you may never have to clip.
FLEA COMB: Hopefully, you will never have to use a flea comb, but as the name suggests, these combs are good to have around because they remove fleas from your dog's coat. They are small in size, so they're easy to steer in tight spaces. Flea combs come in plastic or metal with the teeth of the comb placed very close together to trap any hiding fleas. A flea comb is a must-have addition to your Shih Tzu grooming equipment.
TICK TWISTER: If your dog ever gets a tick, this simple tool helps remove ticks that embedded themselves in your dog's skin easily, painlessly, and quickly.
More Must-Have Shih Tzu Grooming Equipment and Products
Here are some Shih Tzu grooming equipment that you should invest in for your dog's bath time. These items include conditioners, shampoos, and creams: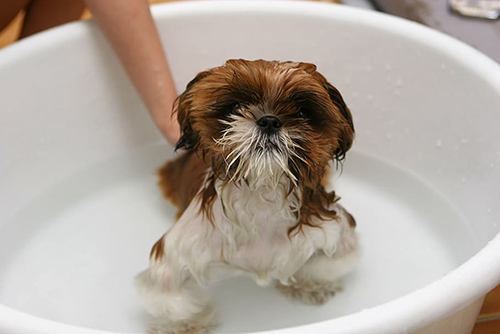 SHAMPOOS: First of all, do not ever use human shampoo or conditioner that contains a pH balance of 5.5 on your Shih Tzu or any dog for that matter. Our little canine companions possess an almost neutral pH balance of 7.5. Therefore, any shampoo with a lower pH can cause harm to your dog by stripping the natural oils, and it is too acidic for their coat and skin. This issue can create itchy skin problems, which will lead to a miserable dog. Therefore, it is essential to use a shampoo specifically designed for dogs.
CONDITIONERS: Taking just a little more time to condition your Shih Tzu's coat will make her feel and look like a million bucks. Also, there are other benefits as well, such as:
Preventing natural oils and moisture from escaping
The coat will stay cleaner for longer durations
Repairs dull, damaged, and dry coats
Restores the soft and silky feel of the coat
Aids in drying more quickly
Prevents the breakage of the hair due to the heat of the dryer
Therefore, the benefits of spending the extra minutes to condition your dog's coat will be a massive benefit for yourself and your dog. Your Shih Tzu will have healthy and moisturized skin and a coat with a natural shine.
WRINKLE CREAM: It is always beneficial to have reliable anti-bacterial, anti-fungal wrinkle paste, cream, or wax, and wrinkle wipes, that aids in the cleaning and protection of your dog's face and wrinkles. Always remember to have reliable and convenient Shih Tzu grooming equipment on-hand for your dog.