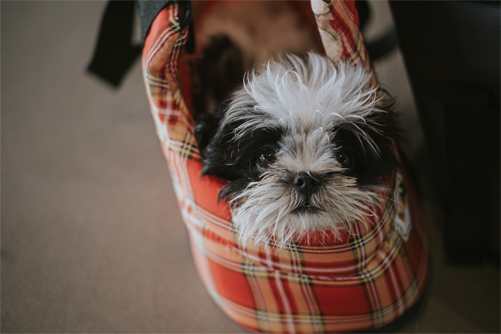 Before purchasing a Shih Tzu puppy from a breeder, it is in your best interest to meet the litter's mother and preferably the father, too.
If the breeder does not have the father as in many cases, the father usually belongs to another breeder. He or she should at least have pictures or, in some cases, a video of the litter's father.
In addition to a picture or a video of the dog. The breeder should also be able to show you the father's pedigree and his health documents.
Depending upon your situation, you can also ask the breeder for the phone number and address of the person that owns the father.
Therefore, you can arrange a visit to meet the owners of the male Shih Tzu. In many cases, the male Shih Tzu may live many miles away.
So, if a picture and a video are not enough for you. Then it is totally up to you to take the trip.
Meeting the parents is crucial before purchasing a Shih Tzu puppy because it gives you an idea of how your little Shih Tzus will grow up and act.
Therefore, if you notice that both parents do not look like Shih Tzus or have a bad temperament, you should politely let the breeder know that you'd be moving on.
You do not want to put yourself into a situation where you take the dog home, and a few months later, you are contemplating getting rid of the dog because it doesn't look or act like a Shih Tzu.
Shih Tzus are friendly and trustworthy dogs. And these are traits that you should be able to see in the parents right away.
Please do not purchase a Shih Tzu or any dog for that matter without seeing their parents first. It will save you a lot of headaches in the end.
A Good Breeder Would Not Mind Answering Questions From Someone Purchasing a Shih Tzu Puppy
Legit breeders with a quality line usually have plenty of references that you can check. A breeder that has nothing to hide will volunteer any information to potential Shih Tzu owners. Good breeders do not want anyone to think that they are associated with a puppy mill.
The best way to ascertain if you are purchasing a Shih Tzu puppy from a reputable breeder is how many questions the breeder asks. Prepare to answer questions about your experience with dog ownership and your familiarity with the Shih Tzu.
The breeder wants to know as much as possible about the person taking his or her dogs' home. Reputable breeders do not care about profit. Their main concern is for the puppy and an assurance that it gets a great forever home.
Good Shih Tzu breeders want to know if you can take care of the breed. It is a great way to tell if they are selling to someone that wants to purchase a Shih Tzu puppy to brag to their friends about having one. People like that will more than likely abandon or neglect the dog eventually.
Shih Tzus are too high maintenance and require a lot of care, love, attention, and patience. You cannot leave this dog tied up in the back yard and forget about them.
Any reputable Shih Tzu breeder wants the right home for their dogs that include: a clean as well as sanitary space for the puppies, owners that understand the specific needs of the breed, and a family with the right finances that can handle the expenses of owning a Shih Tzu.