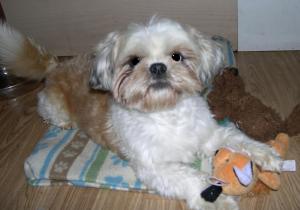 Shih Tzu needs adopting! This is a beautiful Shih Tzu that needs a loving home. So, is there someone out there that can give this deserving Shih Tzu a loving home?
Baleigh is a 2 yr old stunning white and tan Shih Tzu who weighs eleven pounds. However, this little girl came to our rescue because she was found and taken to the shelter and her owner never came to collect her. Therefore, a rescue was called. Click here for more information on adopting a rescue!
Update: Baleigh has already been ADOPTED!