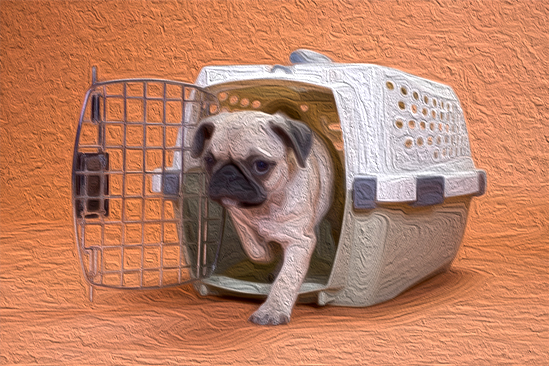 Some people believe that crate training dogs is a cruel and unfair way of teaching them good household manners. However, at least as many, and likely more, who have used this method, believe that it is the single best way to teach a new puppy how to keep their new home clean and not chew on anything they should avoid.
It is a time-consuming yet rewarding process. It restricts the new puppy's access to parts of the house where a mistake could damage expensive carpet, or where a poorly placed chew could destroy valuable family items. Crates are also great when your dog is already house-trained and wants a place they can call their own.
The best type of crate to choose is one of the plastic ones. They are lightweight, easy to keep clean, and are a means to transport a dog to the vet and on long trips.
These crates, sometimes called flight kennels, are available in a variety of sizes to suit your Shih Tzu. When crate training, the kennel you choose must be big enough for the dog to reach adult size.
Crate Training Dogs: A Consistent Schedule is Important
Unless you want to keep upgrading, it is better to buy a large one, to begin with instead of starting small and working your way up. Dog crates can be costly; therefore, one is all you will want to buy.
When beginning the training process, patience is critical. Also, try to keep a consistent crate training schedule. Find the right place for the crate where your Shih Tzu will not be alone but with the family that is now theirs.
Put something in the bottom, an old blanket, a sheet, or something that can be comfortable for your companion. Also, it's a good practice to give your Shih Tzu her meals next to the crate.
The more your dog feels the crate is their space, the less likely that she will use it as a bathroom. Build up slowly to the time your dog can spend in the kennel while remaining relaxed without you or a family member around.
As time increases, leave your Shih Tzu in the crate for more extended periods. This method of crate training dogs teaches them to keep their area clean; therefore, keeping your house clean.
5 Benefits of Crate Training a Puppy
Crate training dogs done ethically and responsibly can have many benefits. These benefits include:
It Provides your Shih Tzu puppy with a home to call its own. The crate is going to provide a place to sleep and an escape from stressful situations. Also, it will serve as a den where your dog can play with its toys.
Establishes a routine, which makes training easier. Dogs do not poop where they sleep if they can help it, so you can take her out after feeding time, and she'll be ready to use the bathroom in an area you designate.
Whenever your dog travels with you, having a crate or travel kennel will make the journey easier. Do not fall for the impression that you see in movies; the best and safest place for your pet is not the passenger seat of your car. The best place for your dog is in a crate where the environment is stable and not bouncing around. Also, a crate-trained dog makes it a lot easier to find lodgings since many motels and hotels are willing to allow dogs that are kennel trained to stay in the room.
Crates ensure the safety of your new puppy. You can restrict your Shih Tzu from potentially hazardous areas of your home when you cannot be there to supervise. Having the assurance that your puppy is not chewing on electric cables or getting into some dangerous mischief is priceless.
It gives you the ability to restrict your dog's movement until appropriately trained. For example, if you are entertaining guests and your dog is not yet trained or socialized, you can keep your puppy in the crate temporarily. You can also use the kennel to introduce your puppy to new pets or people without the risk of biting, jumping, or other undesirable behavior.