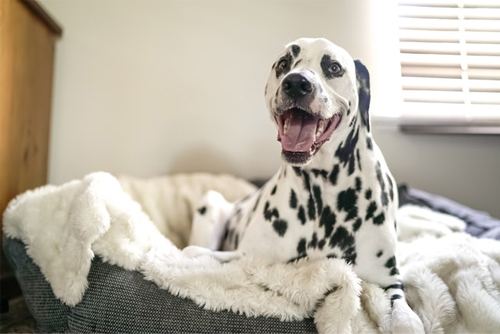 After you've finished using the dog crate to train your puppy, use it as a quiet sleeping spot for your dog. Leave the door open and give them the freedom to come and go, but transform it into a comfortable area by buying a dog crate bed to put inside of it.
These beds consist of padding covered by a removable, water-resistant cover, which is machine washable. Also, they come in a variety of sizes. The pillow is around two inches thick and is made from foam or sometimes from a spun poly that contains cedar bits to eliminate any doggy odors.
The prices range from twelve to fifty dollars or more, depending on what size the dog crate bed you desire for your pet. For a few dollars more, you can purchase disposable pads to ensure the crate bed stays dry. Therefore, It helps keep the pad cleaner, dryer, and more comfortable for your dog.
Dog Crate Beds Can Absorb Odor
You can also purchase cloth that comprises carbon activated materials to soak up any bad smells from your dog. You can wash these pads and reuse them several times. They work great because they do not put heavy flowery smelling perfumes to mask smells. Also, they absorb odors.
If you spend a little more to make your dog, especially if they're older, a little more comfortable, there are orthopedic mattresses available to make your dog crate bed.
In addition, there are some that come with distinctive edging to make it difficult for your dog to chew.
As a result, the mattresses last longer and may help to break your dog out of that chewing habit. One other option for your dog's comfort is a heated pad to make those chilly nights a little more comfortable. It is for dogs whose crates are in the garage or colder like a basement. Also, It is suitable for when a dog has puppies and the weather is cold.
Senior dogs who might have a touch of arthritis or an animal recovering from a surgical procedure will find the heat a major comfort. It is good to know you can make the crate a more relaxed sleeping place for your dog.