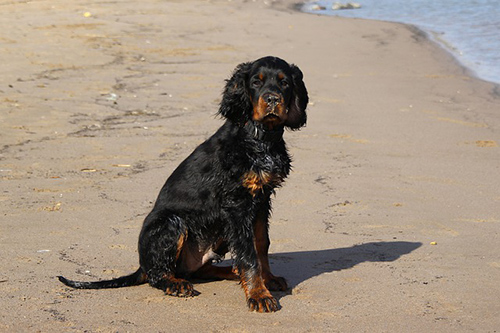 The Gordon Setter did not become fully established until the late 1700s. However, Black and Tan setters existed in Scotland as early as the 1600s. The Fourth Duke of Gordon loved the breed and kept them at his Gordon Castle. Many dogs were reportedly black, white, and tan. Efforts to breed perfect setters continued, thanks to the hard work of the Duke of Richmond after the Fourth Duke's death. Gordon Setters were initially called Black and Tan Setters and were shown at the first-ever held dog show in 1859. However, it wasn't until 1924 that the name was changed to today's one.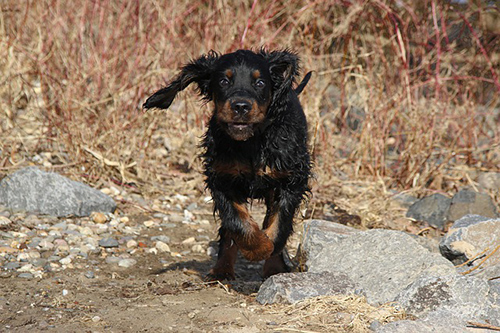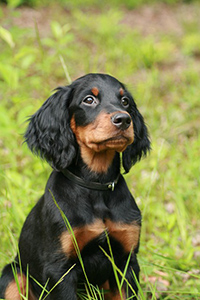 Gordon Setters are the slowest and heaviest working of the setter breeds, and this difference was highlighted when they first entered the show ring. The trend toward an overly cumbersome show Gordon was halted mainly through the efforts of one man, Robert Chapman. Unlike many other sporting breeds, there is a minor division between show and field-type Gordon's. In 1842, George Blunt and Daniel Webster brought the first two dogs to America.
The dog's names were Rachael and Rake and were purchased from the Duke's stock, and they eventually founded the breed in America. In 1892, the Gordon Setter was among the first breeds recognized by the AKC. These setters are in high demand amongst hunters requiring a one-person shooting dog; however, it tends to lack the speed and flash of other setters. They have a moderate following and have never been as popular as the other setters as pets.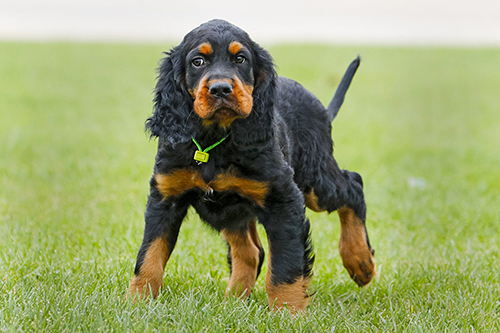 Breed Standard
Gordons are the heaviest setters, and they're built sturdy with ample substance and bone. The suggestion should be one of stamina and strength rather than speed. The dogs are square proportioned, stylish, and resilient. The head is carried proudly, the tail is constantly flagging, and the gait is bold, effortless, and smooth.
These setters carry a thicker coat than the others. The hair is slightly wavy, straight, always soft and shiny. Its ears, underside, back of the legs, and the tail has longer feathering. The dog's impression should be of a rugged companion that is more than capable of enduring a long, active day in the field under various conditions.
Gordon Setter Temperament
This dog is a more than capable close-working bird dog. It can hunt and run all day. All this energy needs a consistent outlet, or it will become irritated. They make enthusiastic and lively companions that need to be in the company of active owners and families. Gordon's are somewhat more protective than the other setters, and are reserved toward strangers, and can be aggressive toward other dogs. However, they get along just fine with other family pets. These dogs have earned their well-known reputation as devoted family dogs.
Breeder Facts
| | | | |
| --- | --- | --- | --- |
| Energy level | | Watchdog ability | |
| Exercise requirements | | Protection ability | |
| Playfulness | | Grooming requirements | |
| Affection level | | Cold tolerance | |
| Friendliness toward dogs | | Heat tolerance | |
| Friendliness toward other pets | | Friendliness toward strangers | |
| Ease of training | | | |
Popularity: Fairly uncommon
Family: Pointer, setter, gundog
Area of Origin: Great Britain (Scotland)
Date of Origin: 1600s
Original Function: Bird setting and retrieving
Today's Function: Pointing, pointing field trials
Other Names: None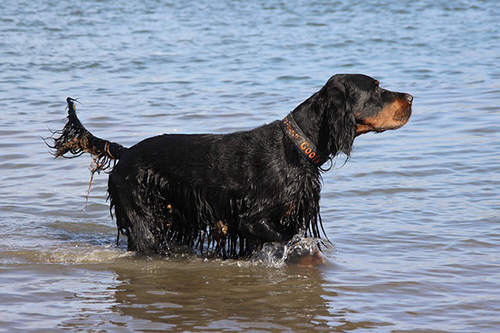 Grooming: Weekly brushing is recommended, and the ears need checking regularly.
Activity level: High. This breed is adaptable, but they have stamina and energy, which needs burning via plenty of exercise and activities. If you're not going to hunt with your Gordon, you can keep him occupied with activities such as jogging, organized dog sports, and hiking. This breed is impressive and thrives as a hunter and a show dog.
Color: Black with clearly defined markings that range from chestnut to mahogany.
Coat: The dog's coat is slightly wavy with longer hair on the abdomen, ears, chest, tail, and back legs.
Group: Sporting
Year recognized by the AKC: 1884
Health
Major concerns: CHD, gastric torsion
Minor concerns: PRA, elbow dysplasia, cerebellar abiotrophy, hypothyroidism
Occasionally seen: none
Suggested tests: hip, elbow, eye, DNA for PRA
Life span: 10 to 12 years
Weight: Male – 55 to 80 pounds; Female – 45 to 70 pounds
Height: Male – 24 to 27 inches; Female – 23 to 26 inches
Breeders and Buying Advice
The Gordon Setter Club of America urges potential owners to investigate the breed thoroughly. The club's Breeder Referral Chairperson can offer future owners a list of breeders.
Parent club: Gordon Setter Club of America (www.gsca.org); founded in 1924.
Regional clubs: More than twenty US breed clubs are listed on the parent club's website.
Gordon Setter rescue: You can find plenty of valuable information on the GSCA's rescue program on the club's website.