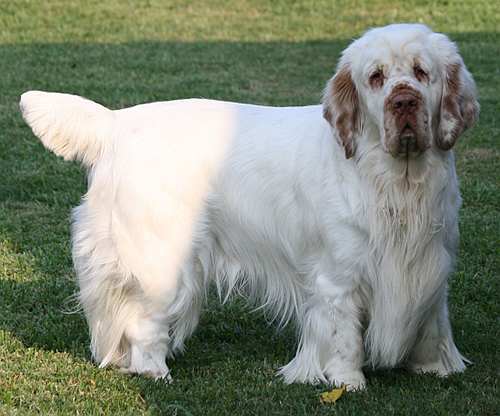 The Clumber Spaniel is the stockiest of the spaniels, and it is also one of the oldest, dating back to the late 1700s. Although the breed's exact origin is unknown, the old heavy-headed Alpine Spaniel and the short-bodied Basset Hound likely played prominent roles in the breed's development. The Clumber did not get its name until the French Revolution when it is believed that the Duc de Noailles of France relocated his spaniel kennels to the Duke of Newcastle's English estate, Clumber Park.
Clumber Spaniels were highly sought after by the English nobility, who loved the slow-moving and especially sharp-nosed hunter that was also a skillful retriever. Commoners were not allowed to own the breed because nobility hindered its popularity except among higher society. Thanks to the dog's high status, they became one of the earliest breeds to be shown. Clumber's found their way to the United States in the late 1800s.
The Clumber Spaniel's status has remained surprisingly strong in the field, even though the dogs have garnered high show honors. The breed remains generally unknown to the public despite its many characteristics.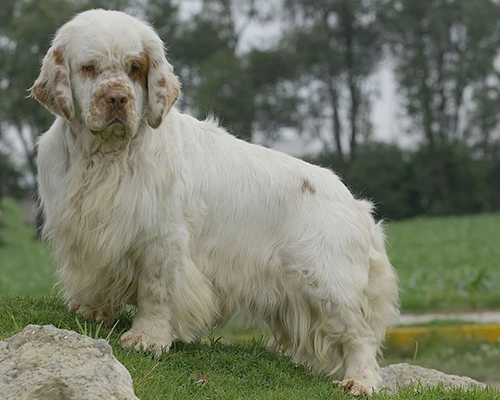 Breed Standard
This dog is rectangular shaped, long, and low with massive bone. The Clumber can move through thick underbrush thanks to its build, combined with a heavy brow, deep chest, and powerful hindquarters when hunting. The coat is straight, soft, flat, and dense, making it weather resistant. The white fur helps hunters locate it when tracking. Clumber Spaniels like to hunt close. The dogs move easily, tending to roll somewhat because of their short legs and large body. The Clumber's expression is soft.
Clumber Spaniel Temperament
This Spaniel is among the most easy-going and low-keyed of the other sporting breeds. However, it is still a skilled hunter at heart and is always ready for a hard day's work. While at home, Clumbers love to relax and are mostly quiet. You might even have to prod them into exercise while they lay slumbering. This Spaniel is one of the few sporting dogs capable of living in the city but will still enjoy walks and long outings. The Clumber Spaniel makes a great pet and is mainly devoted to one individual.
Breed Facts
| | | | |
| --- | --- | --- | --- |
| Energy level | | Watchdog ability> | |
| Exercise requirements | | Protection ability | |
| Playfulness | | Grooming requirements | |
| Affection level | | Cold tolerance | |
| Friendliness toward dogs | | Heat tolerance | |
| Friendliness toward other pets | | Friendliness toward strangers | |
| Ease of training | | | |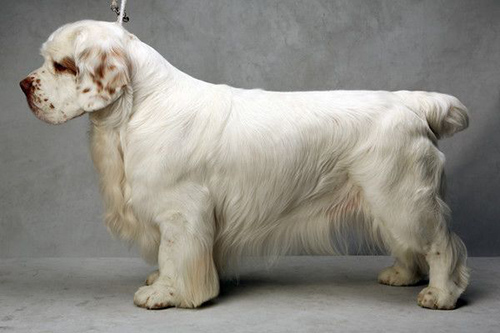 Popularity: Uncommon
Family group: Spaniel
Area developed: England
Date developed: 1700s
Original purpose: Bird flushing and retrieving
Today's purpose: Spaniel field trials, bird flushing, and retrieving
Other names: None
Activity level: Average. This breed has a lot of energy and is built primarily for endurance trotting. They enjoy moderate exercises, such as interactive play and regular walks. Clumbers are also very competitive in hunting tests, tracking, obedience, and agility competitions.
Grooming: A weekly brushing will help to contain shedding.
Coat: The coat is flat, dense, weather-resistant, straight, with some feathering on the ears, tail, belly, and legs and a frill on the neck.
Color: White with lemon or orange markings.
Group: Sporting
Year recognized by the AKC: 1884
Health
Main concerns: Intervertebral disk disease, CHD
Minor concerns: Elbow dysplasia, ectropion, entropion, otitis externa, and PDPI
Rarely seen: Seizures
Recommended tests: PDPI, elbow, eye, and hip
Life span: 10 to 12 years
Weight: Male – 70 to 85 pounds; Female – 55 to 70 pounds
Height: Male – 19 to 20 inches; Female – 17 to 19 inches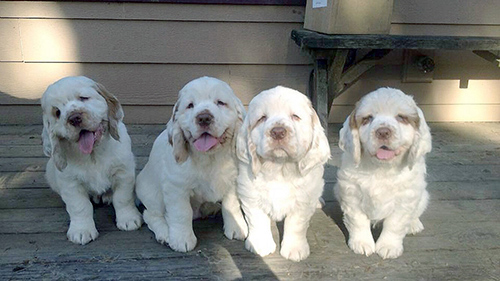 Breeder and Buyer Advice
Avoid buying from someone just selling puppies to make a profit. Locate a responsible breeder who works tirelessly to improve upon the breed and participates in various activities with their dogs. Clumber Spaniel puppies should be supervised because of their propensity to swallow chew toys, which usually leads to intestinal blockages. Before purchasing this breed, be aware that they are predisposed to drooling.
Parent club: Clumber Spaniel Club of America (www.clumbers.org); founded in 1972.
Rescue: Clumber Spaniel Club of America Rescue and Placement Committee information can be found on the parent club's website.