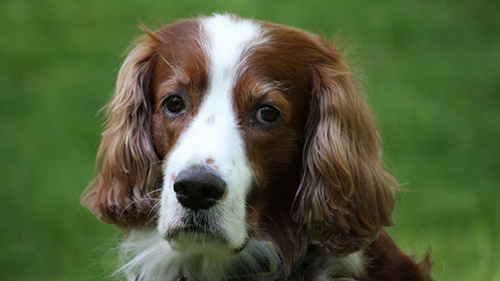 The Irish Red and White Setter have been known in Ireland since the 17th century. By the 19th century, the breed was eclipsed by the flashy, solid-red Irish Setter and its increasing popularity. Attempts to revive the nearly defunct Irish Red and White Setter began in the 1920s. In the 1940s, the dog became established in Ireland, and a club was formed to publicize the breed in 1944. In the 1960s, a few dogs were imported to America; however, the breed did not develop a significant following until twenty years later. American admirers created a club in the late 1990s to promote the breed, and currently, Irish Red and White Setters are prized gundogs and are also trained as therapy dogs.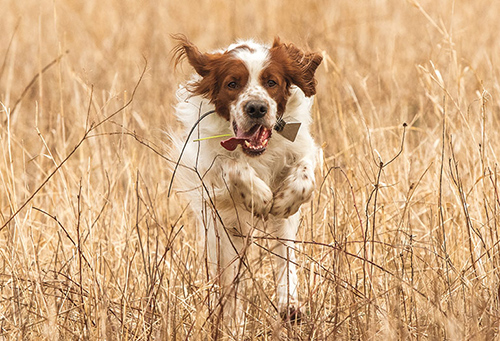 Breed Standard
The Irish Red and White Setter is mainly a field dog. Athletic and powerful, the breed is squarely proportioned and possesses moderate bone. It has a moderately strong, long, slightly arched neck, level, strong back, a deep chest, and tapered tail carried level or below the back. The skull is domed and broad, with a clean, square muzzle. The dog's ears are set level with the eyes and kept close to the head. The round eyes range from hazel to dark brown, giving the dog a gentle expression.
IRWS are happiest when in the field; however, they also enjoy any activity that is with the family. An hour of exercise each day is recommended. Obedience and ability training sessions are beneficial. The dog loves mental challenges and does exceptionally well in agility, obedience, and training activities.
Breed Facts
| | | | |
| --- | --- | --- | --- |
| Energy level | | Watchdog ability> | |
| Exercise requirements | | Protection ability | |
| Playfulness | | Grooming requirements | |
| Affection level | | Cold tolerance | |
| Friendliness toward dogs | | Heat tolerance | |
| Friendliness toward other pets | | Friendliness toward strangers | |
| Ease of training | | | |
Activity level: The IRW is a high-energy dog that demands daily running time. If you're not going to use your dog for hunting, he will love performance activities like tracking, rally, and agility.
Grooming: We recommend brushing once or twice weekly.
Coat: Long, silky feathering is present on the ears, flank, throat, tail, and backs of the legs. The hair is short, flat, straight, or slightly wavy on the head, front of the legs, and body.
Color: White with solid red patches
Group: Sporting
Year recognized by the AKC: 2009
Popularity: Rare
Family group: Setter
Area developed: Ireland
Date developed: 1700s
Original purpose: Bird setting and retrieving
Today's purpose: Pointing, pointing field trials
Other names: none
Irish Red and White Setter Temperament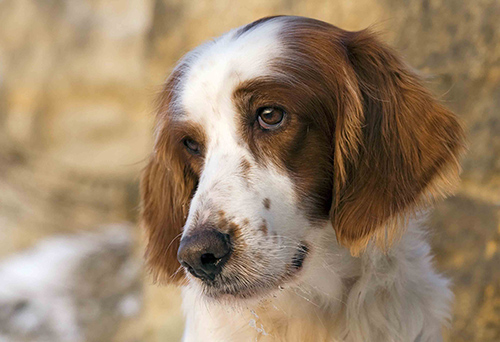 The IRW is a spirited, determined, and courageous dog; they make fantastic companions for the active family. The dogs are friendly and typically good with other pets. They're friendly, eager to please, good-natured, and they respond well to training. However, Irish Red and White Setters tend to have a soft temperament, making them sensitive to harsh treatment and punishments. Training sessions must be gentle while utilizing positive reinforcement methods.
The Irish Red and White Setter possess an easy-going personality and get along well with other dogs, pets, and strangers. It is a little calmer than the Irish Setter, and it learns relatively quickly; however, it can be stubborn and distractable at times. If given sufficient exercise, the IRW is quiet and calm indoors. It tends to bark, but only when given a reason to.
Health
Main concerns: none
Minor concerns: CHD, Canine Leukocyte Adhesion Deficiency (CLAD)
Rarely seen: vWD, cataract
Recommended tests: hip, CLAD, eye
Life span: 11 to 13 years
Weight: 50 to 75 pounds
Height: Male – 24.5 to 26 inches; Female: 22.5 to 24 inches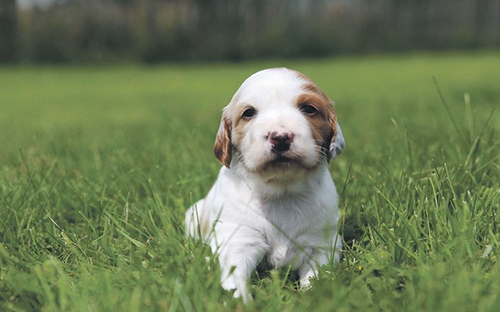 Breeders and Buyer's Advice
Make sure that you are dealing with a reputable breeder that is a member of the IRWSA. Meet the breeder in person, and do not be afraid to ask questions. The parent club recommends that owners find responsible and reputable breeders who will present them with the AKC registration application and paperwork and a three-generation pedigree.
Parent club: Irish Red and White Setter Association of America (https://www.irishredwhitesetterassociation.com/); founded in 1997
Rescue: You can find information about rescues on the parent website