With the sheer volume of commercial dog food brands. It can be an overwhelming task when trying to determine the best dog food for a Shih Tzu.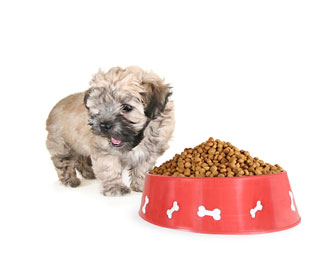 Most pet parents of a Shih Tzu worry about how to provide a diet high in quality. Many know that a brand from their local grocery store is not the best choice for their beloved companion. And that their search should begin within Petco or PetSmart.
Although there is a convenience to choosing a brand from a local market. You must keep in mind that they design most dog food brands to appeal to humans. Not so much in taste, but in aesthetics. They base the choices upon pricing, and not what is best for the extended member of your family.
It makes the quest of finding the best dog food for a Shih Tzu more difficult. Because they, just like humans, are prone to allergies. Therefore, healthy food able to deal with allergies while providing the nutrition needed is essential.
Of the best brands able to provide variety and a diet high in quality. Blue Wilderness dog food appears to be the very best choice.
Best Dog Food for a Shih Tzu

The Blue Buffalo Company manufactures the best dog food for a Shih Tzu. Veterinarians, pet parents, and independent reviewers agree as well. I consider the line of dog food that they provide, a home-style brand that is easier for a Shih Tzu to chew and digest. The brand additionally contains ingredients that are human-grade and have several product lines to fulfill nutritional needs.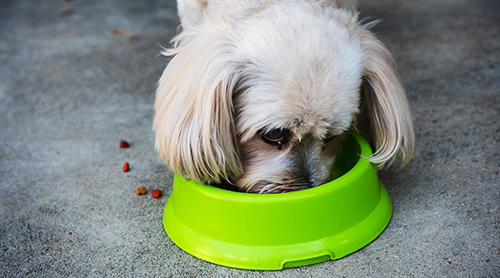 • Life Protection formula with LifeSource bits and all-natural ingredients
• Wilderness formula free of grain
• Basic formula created to include fewer ingredients for dogs that suffer from food allergies
• Blue Home-style, Blue's Stews (canned food line) and Blue Family Favorite Recipes
We consider the Blue Buffalo Company to be a top-notch dog food brand. Unlike most brands that rely heavily on processed foods and byproducts, the Blue brand line remains all-natural.
Processed Food is also Unhealthy for Dogs
When becoming a pet parent to a Shih Tzu, it is imperative to know that processed food is as unhealthy for them as it is for you. Should your companion suffer from allergies, the processed ingredients of most dog food brands will only exaggerate the condition causing your pet discomfort and frustration.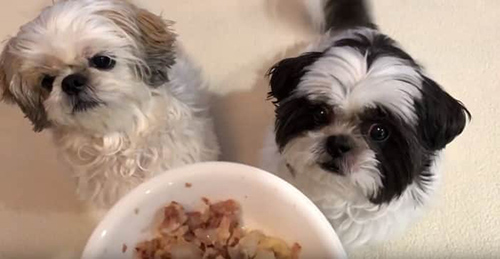 Whether you feed your beloved Shih Tzu dry or wet dog food is completely upon your discretion. The value of the nutrition is not varied by the choice.
Many that are knowledgeable regarding Shih Tzus suggest a mixture once they are no longer within their puppy stage. Others contend that you should try both individually and allow the pooch to decide for themselves.
A trained associate at your local PetSmart or Petco location will inform you what ratio and feeding times would work best for your pet.
They will base this information upon the overall activity and current weight of the pet along with its age. It is important to ensure a diet void of table scraps and feeding regimens that may lead to obesity.
Providing the best dog food for a Shih Tzu and a well-balanced diet will result in a healthy and active pet with a luxurious shiny coat. Shih Tzus usually do not have problems maintaining a healthy weight as long as they get suitable exercise.
However, an unbalanced and unhealthy diet can cause a brittle and dry coat, lack of energy; slow growth; poor health conditions; and permanent bone and muscle growth issues.
Discovering the best dog food for a Shih Tzu is all about learning the basics of an ideal diet and how to read and understand dog food labels, which is crucial in getting the right balance for your canine member of the family.